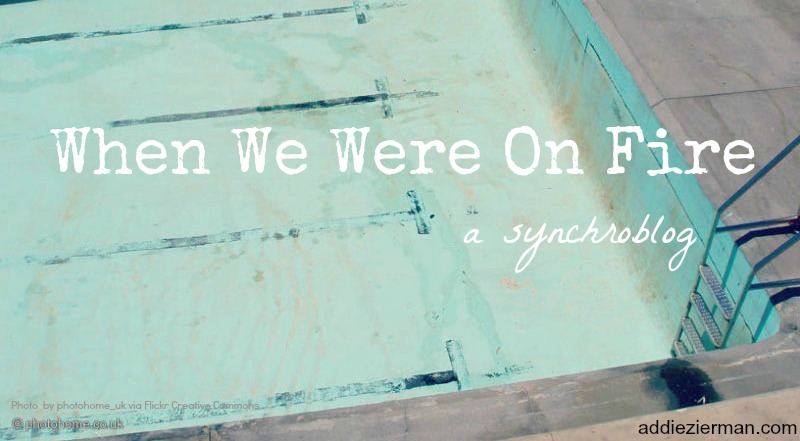 Here's the thing. I was never on fire.

I wanted to be, so desperately. Sitting in the dark arena/chapel/gym/youth room/campground, the music swelling, the lights just right, I would decide to DO SOMETHING about it all and go down front and try, this time, to get it right. To say the right words and turn my heart into something with a spark I could fan into a flame so the words on my t-shirts would finally be true.

I was the FCA secretary. I worked at the Christian bookstore (not, despite my begging and pleading with the manager, in the music section. But I sold the heck out of some homeschool curriculum in the education department.) I had the See You At The Pole shirt with the big American flag on the front. I never missed youth group. I had one of those laminated sheets that told you IF YOU LIKE (mainstream artist)… YOU'LL LOVE (Christian artist)!

I don't care what anybody says, Audio Adrenaline is not and acceptable substitute for Everclear.

I was in the youth choir. (Bad idea.) My serious boyfriend was the son of one of the pastors at our church. (Worse idea.)  I highlighted Proverbs 31 and took notes in the back of my Bible and ignored all the things that set off alarms in my head because I knew I was the only one who had those questions and I didn't want to become someone's (unspoken) prayer request.

They never told me directly that I was wrong. But I picked it up in a thousand different ways.

When my friend yell-whispered ARE YOU A CHRISTIAN??? before passing me the tray of communion wafers. When I mentioned being interested in going into youth ministry and someone suggested I try to marry a youth pastor instead. When I was the only one who had a problem with the line in that Newsboys song about "an entire turnaround that would make a bouncer take ballet, even bouncers who aren't 'happy'". When everyone was jumping and raising their hands and crying and I tried and tried but my heart wasn't in it.

I figured out how to create smoke. But I was not on fire.

**************************
This post is part of a synchroblog for Addie Zierman's new book When We Were On Fire.