Posts from —
June 2002
We arrived safely in Arizona. Very uneventful voyage, which is definitely a good thing.
Geneva's first flight was painless (both figuratively and literally) and she is loved by her Aunt Amy and cousins Megan and Amanda. Uncle Clinard hasn't met her yet, nor has Uncle David and cousins Lauren and Alexandra. But I have no doubt that they also will fall prey to the power of Geneva. Resistance is futile.
Nice weather coupled with a pool calls me away.
Have a good day, whoever you may be.
The first verse of Pierce Pettis' song Depending On Gravity is absolutly amazing. I love it to the very core.
I've always had this fear of heights
I don't like looking down
I tend to get my bearings
From things that don't move around
I've always placed a lot of faith
In the ground beneath my feet
Oh and I have lived my life
Depending on gravity
Of course, by the end of the song I don't really have any idea what the song was about. But that first verse resonates within my soul with Truth that transcends understanding. We don't try to prove gravity's existence, we just experience it. Yes, we can come up with many evidences of gravity, but they don't prove it. It doesn't need proving because it is self evident. One cannot exist without knowing that gravity exists.
The same is true of God.
It's on the album Making Light Of It, which is the oldest and my favorite of the three albums still in print.
I was just reading some posts and articles on an atheistic website.
I find it amazing how hard these people work to not believe in God. I mean, if they don't believe in God, then why do they spend so much time and effort in proving that they don't have to? And their arguments, contrary to proving God does not exist, only prove to me that they are indeed working hard to support what they already believe. Making an excuse for themselves to live how they want to live.
Men know that God exists, and as a result they know they are obligated to bow down and serve Him. Men also, by nature, hate God. As a result of this, they concoct stories and excuses to help themselves feel better about their refusal to worship Him. Stories that, even when operating under their own presuppositions, are laced with logical contradictions and impossibilities. But they aren't really denying God, even in these attempts. They are depending upon Him as they heap burning coals onto the fire that will soon consume them. The air they breath, the blood in their veins and the very logic by which they operate are all clear and irrefutable evidences, yay, even proofs, that they believe in God with the deepest fiber of their being.
p.s. – happy birthday to me.
I am going to shelter my children from things that will harm them, I believe one of the goals of the Christian life is to sin less, and I believe that The Prayer of Jabez is a bad book, not just a misrepresented or abused one.
and you can quote me on that.
some of you may recall a few weeks ago when i posted on derek webb's messageboard about having a Cecropia moth, and that it was laying eggs like crazy.
well, today the eggs hatched. there are currently dozens of tiny (about the size of a mosquito), black caterpillars crawling around on my floor. My wife, bless her heart, is collecting them and putting them into a little cage we have. Then she is going to collect some tree branches for them to eat on. She is a trooper.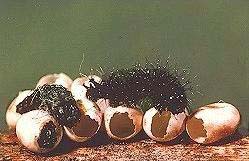 they go through five instars, or growth periods, during the summer. by the end of the fifth instar, they can be up to 4.5inches long! each fo the first four instars lasts about a week, at the end of which the caterpillar sheds its skin.
i will keep you updated on their health and progress. i intend to take pictures and maybe even keep observational notes.
Therefore hath he mercy on whom he will have mercy, and whom he will he hardeneth. Thou wilt say then unto me, Why doth he yet find fault? For who hath resisted his will? (Romans 9:18-19)
In the book Back To Basics, Douglas Wilson makes a very interesting point. When discussing this passage of Scripture, he writes
"I was a pastor for about eleven years before I came to understand the thoroughness of God's grace in salvation. Up to that time, my teaching on the subject was a typical hodgepodge of confusion and evasion. As I look back at that time, I now find it interesting, if not somewhat curious, that no one ever objected to my teaching as did the objector in Romans 9."
A short space down the page he continues,
"But since I have come to these truths — meaning that I am now willing to make the same sort of blunt assertions that Paul makes — I have heard this objection countless times. It is almost as though the objectors (who are all Christians) are unaware that this objection is in Scripture, that Paul places it in the mouth of one who resists the truth, and that he kicks the legs out from under it."
Megan went to the baby doctor on monday, and heard the heartbeat. amazing.
I didn't get to hear the little swooshswoosh going one hundred fifty something times a minute. i tried to listen to it with the baby monitor, but that just didn't work. stupid machine.
I heard derek webb one time, while introducing a new song, talk about songwriting as therapy for him. I wish I had some type of therapy like that. It would be nice to write a good song or something as therapy. I'm sure I have something that I do as therapy, but I just don't know what it is. Maybe Megan knows. I figure it's probably easier for someone observing me to see what it is I do for therapy than i can see myself. or maybe it's all crap.
the back40 is dead dead dead. i've been thinking about shutting the thing down. it is unloved.
i am thankful that i'm not as foolsih as some people think i am.